Bee Line's state-of-the-art computerized alignment systems utilize lasers, which are more accurate than manual or infrared sensors. The bright laser beams are highly visible and show any alignment errors on the vehicle. Bee Line lasers provide the most accurate alignment readings on the market today. While most systems only measure to one hundredths of an inch (0.01), Bee Line uses a system capable of measuring alignment variables to five thousandths of an inch (0.005).
All corrections and adjustments to a vehicle's alignment are done with a "live" reading. The readings for toe, rear tracking and camber are shown on the computer screen or a wireless Remote Display and reflect all changes as corrections are being made to ensure accuracy.
Calibration is built-in on Bee Line equipment. Calibration is an important part of any alignment system and should be done frequently to ensure accurate alignment readings. Bee Line's equipment has built in calibration capability and can be calibrated by the operator at any time in just a few minutes. There is no long wait between calibrations and no extra expense while waiting for an outside party to come and calibrate the equipment.
Watch a short video

The LC7500 Laser Guided Computer Wheel Alignment Systems were developed to significantly lower your cost of performing alignments and increase productivity, therefore improving profit potential.
Built-in Calibration lowers costs and increases productivity
Exclusive in-house software design with updates at no additional charge
Locally sourced Windows-based computer & 32" monitor, viewable at a greater distance, minimizes downtime
On-Board Assist / Remote Diagnostics / F1 Help makes training uncomplicated and straightforward
---
Each Bee Line gauging system within the 7500 Series share similar features, but are individually designed to meet specific needs. Faster processing, extraordinary accuracy and increased speed all come together in the LC7500 Series to deliver the ultimate return on your investment by enhancing productivity. Available systems include:
LC7500
Laser guided alignment system that allows technicians to gauge toe, camber, caster, KPI and steering stops, as well as rear tracking on tractors and trailers when combined with the 22000 Rear Axle Aligner.
LC7580
Adaptable to ALL vehicles, the LC7580 laser computer wheel alignment system revolutionizes Bee Line four wheel alignment and allows your shop to align independent rear suspension vehicles, twin steer vehicles and everything in between. It is the ultimate Bee Line Alignment machine.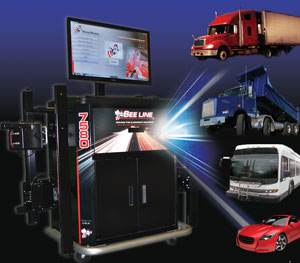 LC7550
Our Mobile Alignment laser guided computer alignment system features the acclaimed WindSpeed 7500 software running on a powerful Bee Line laptop computer.
Contact your local sales representative or Bee Line Customer Service to learn which computer alignment products best suit your shop's needs.
Have a Question?
We're here to help. Head over to our question hub and get answers direct from our experts!
Ask a Question