Bee Line Company remains intensely committed to providing world class equipment, unparalleled technical expertise and total customer service.
For more than 90 years, Bee Line equipment has enabled millions of trucks to return to the highway as safer, more efficient and productive vehicles. Today, we apply the technology and expertise gained in the demanding commercial vehicle industry to offer a full range of products that service heavy duty vehicles in over-the-road, off-road, military and specialty applications, as well as automotive vehicles.
A complete line of machine and accessory solutions is available to use in multiple applications, including Mobile Alignment, On The Floor Alignment and in shops with the full capability to include permanent configurations. Bee Line systems are designed to fit each shop's specific requirements, and expand to accommodate changing needs and conditions.
By adapting to the needs of a dynamic industry for nearly a century, Bee Line will continue to be the leader of the complete alignment market and the company setting the trends in the future.
For a more detailed listing of our products, view the Bee Line Product Catalog.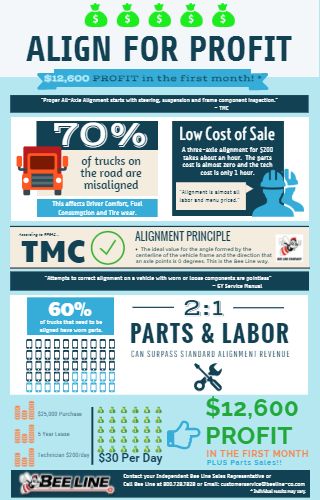 Have a Question?
We're here to help. Head over to our question hub and get answers direct from our experts!
Ask a Question