Professional Training
Professional Training
Expert hands-on training courses taught by Bee Line's resident SAE Certified training technician deliver the highest quality instruction to the alignment industry.
Bee Line offers training courses focused on the principles and techniques of performing computerized wheel alignment and truck frame correction. These courses have been developed to advance any technician's skills to the next level, whether a beginner or a seasoned mechanic. Our fully equipped training center located near our manufacturing facility in Bettendorf, Iowa, provides the ultimate learning environment. With more than 90 years of experience in wheel alignment and frame correction, trust Bee Line to help your company succeed.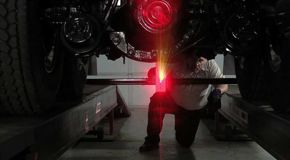 Have a Question?
We're here to help. Head over to our question hub and get answers direct from our experts!
Ask a Question